The Jaska Nolan Residence was awarded GreenPoint Rated Gold Certification from Build it Green! It is especially difficult for remodels to achieve such a high level of certification as they have to work around existing structural components and must divert the same percentage of waste as a new construction project while including demo into that calculation.
Overall, the project complied with all prerequisites and achieved an additional 118 points for Gold Certification. The chart below compares the estimated energy, water, and environmental benefits of this GreenPoint Rated home to a conventionally built home.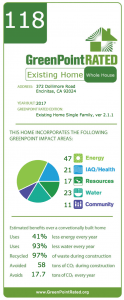 View more info about the project here.